Category: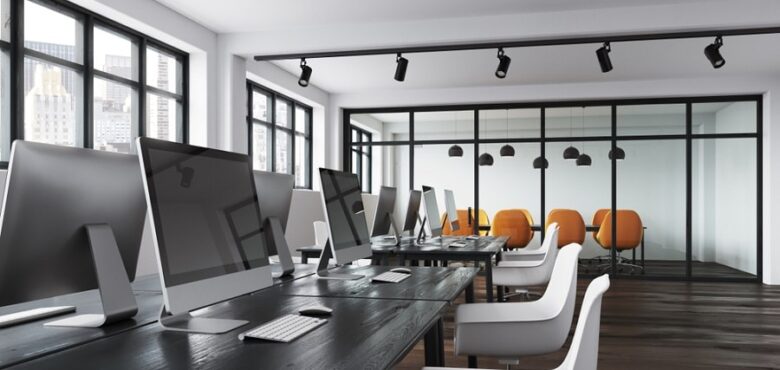 12 Ways to Update Your Office Space This Year
If you run a business and have been working for home for many months now, you are probably dying to get back in the office. Although office life has its stressful moments, working from home can be quite lonely, and you might be missing the camaraderie of the bustling office life.
Your business deserves to be nurtured, and part of that nurture is your office space itself. If, after covid, your office seems a little drab, cramped or impractical, it's time to start making changes.
Here are 12 ways to update your office space this year!
#1: Improve and Expand Your Office Parking
When it comes to creating a post-covid office space that works for everyone, accessibility is essential. We have all learned during this time that we need to be more considerate of people's circumstances, be it illness, disability, childcare or single parenthood (to name but a few).
By improving the accessibility and quality of your office parking, you are incentivising people to come into work and be a part of the team once again. You are also giving them the opportunity to leave their vehicle in a safe environment while they are in the building.
In order to improve and expand your office parking, you will need to commission a contractor to help you complete this work to a high standard. A contractor can source experienced workers for tarmac laying, sealcoating and line painting so your parking area will be smooth, clearly demarcated and weather proof.
#2: Fill the Place With House Plants
House plants are a huge trend for millennials and Gen Z folk, who love to fill their urban homes with forests of green. House plants aren't just an aesthetically pleasing addition to your office space, brightening up the greys and whites and bringing the place to life; they are also very helpful for boosting oxygen levels in the office. This can make the air more breathable, giving people a new lease of life when work gets tough.
#3: Invest in Larger Desks
Social distancing is the aim of the game in post-COVID office spaces, and for social distancing to work, you need large desks. Gone are the days of pokey desks and elbows touching as you type; you need large desk spaces to give employees distance between one another.
Large desks can be sourced second hand for a more eclectic look, or can be bought in bulk for a uniform layout in the office. Desk spacing is also essential; you should work with an interior designer to help you optimise your office space for safety and practicality.
#4: Digitise All Your Documentation
Your documentation, if it is still in paper form, is likely taking up valuable office space, stuffed away in a cabinet. By making everything digital, you are not only catching up to the contemporary standard of business operations, but you are also optimising your office space for what's really important.
Your documentation, such as your health and safety records or accounting statements, can be easily stored on a cloud platform that keeps it safe, secure and out of the way.
#5: Increase Your Cleaning Regime in the Office
Now that we have all been through a pandemic, it is safe to say we are all more concerned about cleanliness than we may have been previously. Coronavirus is highly infectious, and despite the fact that many of your workers may be vaccinated when they return to work, we all still need to take relevant precautions.
Increasing the cleaning regime in the office not only helps the place to stay spotless and coronavirus free, but it will also keep employees' minds at ease. Knowing that surfaces and touch points are regularly wiped down with antibacterial cleaning products will give them more confidence when returning to work after being at home for so long.
#6: Provide Masks and Personal Water Bottles to Staff
Speaking of precautions, as a business, you need to let everyone know that you take COVID-19 seriously. That's why providing masks and personal water bottles to all staff, branded to represent your business, is essential. Not only will this help support and represent your brand using visual logos, but it will also ensure that workers are safe, while encouraging them to comply with safety precautions.
#7: Replace Carpet With Easy-Clean Flooring
Easy clean flooring is a hugely helpful way to make your COVID-19 cleaning regime run more smoothly. Carpets hold onto dust, bacteria and stains, and also give the office a dated, 1970s style.
Easy-to-clean flooring like wood, tiles, lino or poured concrete are elegant, modern, and yes, easy to wipe down too. Bring your office into the modern, minimalist style with a classy hard floor, and ditch the carpets once and for all!
#8: Increase Ventilation in the Property
Ventilation is important for two reasons: virus safety and employee wellbeing. A stuffy office is shown to decrease productivity, as the warm air makes people sleepy, especially in those last few hours of the day.
By opening up windows and allowing natural air into the office, you rejuvenate everyone there and keep them going through the tiredness they might experience. Of course, ventilation is also a great way to keep your office COVID-19 safe, because fresh air will be able to come in and out of the property, carrying with it any virus particles that have been expelled.
#9: Let More Natural Light In
Natural light works wonders for mental health, and also makes your office look beautiful too. Big windows allow sunlight to pour through, casting a golden hue over the workplace and making everything feel more alive.
Psychologists believe that access to natural light can improve symptoms of depression, anxiety, irritability and tiredness. By allowing more natural sunlight in your workplace, you are doing wonders for the mental health of yourself and your employees.
#10: Reduce Clutter in the Workplace
Clutter. Somehow, however hard we try, it's impossible to avoid it altogether. A cluttered home makes for a cluttered mind, and believe it or not, the same rules apply to the workplace. Cluttered desks, floors, stock rooms and break rooms can cause a more stressful working environment, and also makes the office harder to clean.
If you are looking for ways to reduce clutter in the workplace, take a look at some inspiration for minimalist offices on Pinterest. Stripping your office down to a more minimalist, elegant space is great for your budget, your wellbeing, and your cleaning regime too.
#11: Provide Ergonomic Chairs
Ergonomic chairs are fantastic for the physical health of everyone in the office, and they look stylish, too. People have been working from home for over a year now, meaning that they might be suffering the consequences of a low quality chair, or even from working on the couch!
By providing ergonomic office chairs to all workers, you are investing in their wellbeing and incentivising them to come back into the office. Ergonomic office chairs support posture, core strength, circulation and muscular structure – all of which contribute to better sleep, and a boost in mood, too.
#12: Host a Re-Launch Event
Finally, hosting a relaunch event when coming back into the office will make people feel like they're coming back with a bang. It is essential to get people excited about returning to the workplace, so it doesn't feel like a chore, but rather an opportunity.
Final Thoughts
Investing in your office post-COVID is a hugely important step, in order to make the place safer and more practical for every worker. Use this guide to help you optimise your office facilities and make it a future-proof place to work.