Category: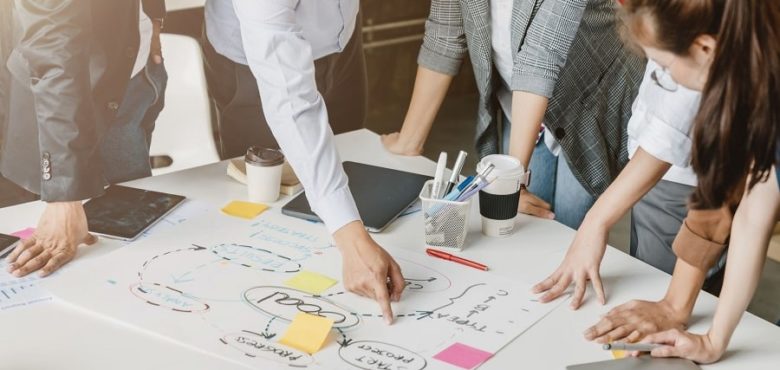 3 Marketing Trends That Aren't Played Out
In marketing, we all know patron data is king but if there was ever to be an heir to the throne, creative juice or innovative ideas would be the definite successor. To prove our point let's take a quick look at the value associated with a mass database of loyal patrons.
According to Statista from Q1 to Q4 in 2009 the Facebook users database went from 100 million to 360 million. At that time, Mark Zuckerberg's company was estimated to be worth roughly $10 billion. Why was his company (a free platform) worth so much? Well, that's because the information obtained by the company's patron database could be used for advertising and marketing via mass manipulation. Now, the company is worth over $50 billion and its database is equally staggering with over 2.5 billion users.
The bottom line is, innovation drives marketing and it is the most important element of capturing interest successfully. This couldn't be more true in the era of the Coronavirus where disruptive propositions are becoming more of a commodity than ever. In a world where technology is changing every day, marketers are scrambling to keep up with the latest concepts and platforms available in order to stay connected and relevant with their customers. How do they keep up you might ask? The answer is anything but simple. To take some of the pressure off though, we have assembled 3 highly effective methods for reaching your target customers that won't break the bank or get played out like some of the old ideas we see still being used today.
Remember, there are some traditional attention-grabbing marketing tactics that customers can't resist. And those my friend, will never retire or get old no matter how much technology or the times change. But if you have already started to leverage these proven techniques, and you are looking for a little more juice, then the following 3 concepts will only further develop your loyal following while increasing your patronage.
#1: Digital Coupons
Physical Coupons
In 2019 over 200 billion pieces of mail were physically delivered. That is indeed an impressive amount of mail but with recent developments around the country, that number will likely go down and stay down for years to come. Especially since over a dozen of the nearly three-quarters of a million UPS drivers have been diagnosed or have tested positive for the COVID-19 virus. I wonder how many have actually been tested? Even though there are no proven studies that show the virus has been transmitted through the mail, people, in general, remain skeptical.
Current virus scares aside, direct mail campaigns have for the most part remained stagnant over the last several decades. Even prior to COVID-19, direct mail suffered from its massive overhead expense, and their low overall redemption rates. Depending on the total liability and cost of postage and printing materials most advertisers considered snail mail to be a loss that mostly only helped with brand recognition. Physical coupons will probably never disappear completely, but they will take their biggest hit yet in 2020.
Digital Coupons
In 2016 79.8% of households with persons over the ages 65 had at least one computer. And of that 79.8%, 76.1% had internet access. Surely this accounts for cell phones and other handhelds devices but census reports can only include so much detail regarding what the actual split is. The important part here is that in ⅔ of the American population has access to a digital device. And it is probably fair to say that those of us who own a computer (or similar device) have started to use item in new ways. People are shopping, surfing, selling products, and communicating via the internet more than any other time period in history. Now it is important to also note that this trend had an upward trajectory even before the Cornoviurs began to sweep the nation. So we can expect the general demand, growth, and overall usage for such devices will only continue to trend upward.
After the introduction of digital coupons from companies like retailmenot.com in the early 2000s, the world saw a significant opportunity to market in a more efficient way. Obviously the preferred method for printing and using coupons vary from generation to generation. To further illustrate our point, take a look at a study from 5 years ago conducted by NCH Marketing Services which revealed a couple of compelling stats regarding that very topic.
At least 70% of millennials search for deals and print coupons from the internet compared to the average 64.5 of both Generation X and Boomers.
Roughly 67% percent of all Millennials in the U.S. download coupons onto retailer loyalty cards, compared to 56 percent of Gen X and 46 percent of Baby Boomers.
For the most part, people who are ages 55 and older prefer physical mail coupons versus digital offers. But that is likely to change given the at-risk age for contracting the Coronavirus.
Of course, retailers and grocery stores aren't the only companies using digital coupons. Over the last decade casinos, car dealerships, and even social media platforms have introduced some form of digital couponing. In some ways, the analytical data gathered from digital coupons is as valuable as the patron data generated in the pursuit of them. Remember, every time you receive open or redeem a digital offer, your information is being stored somewhere for use at a later time. Most likely it will be used in attempts to manipulate your buying habits.
Lastly, corporations are pouring more money into digital coupon offers every day. Digital coupon redemption is up from $14 billion in 2014 to $31 billion in 2019. And that is why digital coupons will never go out of style.
#2: Social Media Takeover
A social media takeover is where you allow a person or brand of interest to take over your social media platforms and post content on your behalf. Typically a takeover is done on Instagram, Snapchat, or Facebook, but they can be done on just about any platform where you build a following. In the last 2 or 3 years marketing via social media takeover has exploded. These takeovers are extremely useful for marketers looking to grow their social following, increase sales, and generate additional awareness. In a nutshell, you get to use another entity, influencer, or expert to leverage their popularity and a special skill set in order to gain potential customers.
There are many important elements of a social media takeover. This is especially true if you have an already established brand. The last thing you want to do is hand over access to your company's social media platforms and not define your objective(s) first. After all, the main goals of social media takeover are to build a new audience for your brand and engage your existing followers, not confuse them. A successful plan will starts before your takeover goes live. Some companies will attach their takeover to a preplanned event. This is a great way to help increase attendance and sales. If you are opening a new store in a new city, a local influencer is one of the best ways to seize the moment.
Here are some social media takeover best practices:
Avoid hyper-polished content – people identify with relatable, impromptu like footage.
Create a timeline – consider time slots for a teaser, also include the launch and end date.
Outline high-level goals.
Promote on other platforms – if you takeover Facebook, promote on Twitter, IG & Snap.
Find the perfect influencer/creator – keep it relative.
Promote the takeover ahead of time.
Analyze the results – tracking your success.
Have fun – lots of it, the more unique and crazy the better.
There are unlimited opportunities when creating your social media takeover campaign. No matter what you decide to publish, begin with the end in mind and follow up with an astute post takeover evaluation. By evaluating the takeover in its entirety, it will help you identify what worked and what didn't. Use the spikes in viewership, attendance, and sales to gauge the success or failures of your campaign. Your host will also likely share analytics from their platform as well (assuming they linked back or posted on their pages as well).
#3: Hiring a Celebrity
Of course, it's customary to save the best marketing trick for last. If you want to gain exposure, earn trust, or appeal to the masses your best bet is and always will be to hire a celebrity entertainer to broadcast your message. When you have a good product, you tell everyone yourself. If you have a GREAT product, others talk about without you having to. Word of mouth is still the single most powerful marketing tool in the world. This is especially true if the words are being spoken are coming from a known celebrity. Don't forget, this method isn't just for big companies or large corporations. Even a local celebrity speaking at or for a community is enough to gain exposure.
As you probably know, live entertainment and concerts, in general, are anything but thriving at the moment. But that doesn't mean you can't hire a celebrity. It just means they won't be performing live at your gala or in front of 5,000 screaming fans, for now. You are probably wondering if the impact will be the same if the performance isn't live or happening on stage, right? The answer to your question is, the impact will absolutely be the same. In fact, at the moment, the impact of virtual concerts is immeasurable. People are anxiously wanting to be a part of something entertaining. And let's face it, right now virtual is all we have. We are seeing a massive surge in virtual concerts to support various causes with absolute success. A good example of this was when Post Malone raised over $500,000 during his live stream of an all Nirvana tribute concert. Obviously Post Malone won't join a virtual zoom meeting to sell your organic non-GMO energy bar, but he might skype in for your non-profit to sing happy birthday to a child in the hospital. Regardless, of your objectives, the fact remains. The power of hiring a celebrity commands attention.
How Do You Hire a Celebrity to Promote Your Product or Event?
There are quite a few ways to hire a celebrity nowadays. If you are a local theatre or college you might procure a non-profit entity to organize and hire talent for your event. In most established independent venues, they will hire talent in-house because over time they have the built-up staff to support an entire entertainment program. It is crucial to remember that selecting the right entertainer is of the utmost importance. Otherwise, you could send the wrong message, waste money, and lose credibility. If you are not familiar with the intricacies of hiring a celebrity consult a professional before you call a talent agency.
Some important considerations when hiring a celebrity are below:
Budget.
Purpose i.e. performance, speaking, meet and greet, book signing, etc.
Performance medium such as; virtual, drive-in theatre style song collaboration.
Time of day and day of year/month.
Location, travel logistics, and visa arrangements and hospitality requirements.
Opening acts and other special request or requirements.
The Wrap-Up
Marketing can be as exciting or as boring as you want. The results will for sure reflect the amount of time, energy, and money you dedicate to the campaigns you drive. Ultimately the best product will be the one see through to the end. And like most things in life, anything worth doing is worth doing right and sometimes that is a tiring process albeit rewarding.
As the times change and customers evolve, the exciting world of strategic marketing will also follow suit. Of course, old school concepts like some of the tried-and-true tactics of database marketing will remain relevant, but the ways we interpret analyze and develop ways to implement campaigns using that data will only get more refined over time.
Final Takeaway
In the end, what matters the most is results. In order to maximize results and the response to your marketing efforts, it is important to diversify. No one strategy will work on its own. The general public sees thousands of ads every day. And it often takes someone several times of seeing an add to acknowledge it. Good luck.
Troy Wyatt is an independent TERO certified entertainment consultant that focuses on the guest experience for patrons in the hospitality industry. With over a decade of in-depth exposure to entertainment, he specializes in providing marketing and entertainment guidance to the tribal gaming industry. Wyatt uses his deep knowledge of key casino marketing concepts and proven methods to build successful and sustainable entertainment programs. His extensive background in live entertainment production and event ticketing allows him to create unique strategies that engage players in innovative ways.