Category: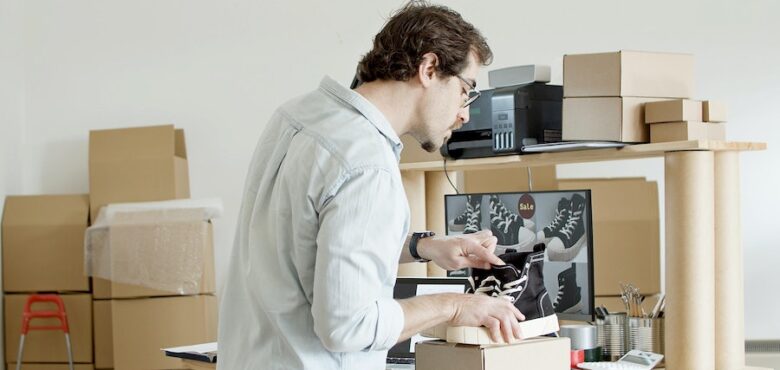 10 Tips for Starting an Online Shoe Store
Starting an online shoe store is a great way to enter the retail industry in the internet age. With online shopping becoming increasingly popular, e-commerce businesses are thriving, and there's no better time than now to begin your own venture. But before you start selling shoes online, it's important to understand what it takes to get started.
Here Are Some Tips for Starting an Online Shoe Store:
1. Choose a Niche:
There are many different types of shoes available for sale in today's market, so it is important to identify the niche you want to specialize in when setting up your shop. For example, consider focusing on a specific type of footwear, such as athletic shoes, dress shoes, or sandals, or focus on a particular brand of shoe or even a certain style.
2. Source Quality Suppliers:
One of the most important elements to consider when starting an online shoe store is how you will source and sell products. There are several options available, such as dropshipping, wholesaling, or even manufacturing your own shoes.
Drop Shipping
Drop shipping is a popular method of selling shoes online as it allows you to pass on the costs of stocking, storing, and shipping directly to the customer. This means you don't have to deal with any of these costs yourself and can focus more on marketing your store instead. 
In order to set up drop shipping for your online shoe store, you need to find a reliable supplier who can provide quality products at competitive rates. You also need to ensure that their delivery times are fast enough so that your customers are not disappointed when their orders arrive late.
Wholesale
Another method for sourcing shoes for an online store is through wholesalers. Wholesalers offer bulk orders at discounted prices, allowing you to stock up on a variety of shoe styles and sizes without having to buy them all individually. 
The downside of this method is that the shipping costs can be quite high as there will be more weight involved in sending multiple items together. You also need to make sure that your chosen supplier has reliable delivery times so that your customers don't experience long delays before getting their order.
Manufacturing Your Own Shoes
If you have the resources and expertise, manufacturing your own shoes is a great way to start an online shoe store. This allows you to have full control over the design, quality, and cost of your products which can be a great advantage for setting yourself apart from other shoe stores. 
However, it is important to remember that manufacturing your own shoes will require a significant amount of time, money, and resources, so make sure you have considered all these factors before taking this route.
No matter which option you choose for sourcing products for your store, it is important to ensure that you are selling quality items at competitive prices.
3. Establish an E-commerce Platform:
In order to start selling online, you will need to establish an e-commerce platform on which to launch your business. There are many different solutions available such as Shopify, WooCommerce, Bigcommerce, and Magento, so research each option carefully to ensure you choose the best one for your needs.
4. Create a Website:
In order to attract customers, you need to create a professional website with an AI Website Builder that makes it easy for visitors to browse and purchase products from your store. Make sure your website is attractive, easy to navigate, and optimized for search engine visibility in order to draw in more traffic. Additionally, include lots of product images and descriptions so that customers can get an accurate idea of what they're purchasing.
5. Market Your Store:
Once your online store is up and running, it's time to start marketing it! Utilize social media platforms such as Facebook and Instagram as a means of promoting your business; create ads on popular search engines like Google; and send out newsletters to your subscribers. You could also consider collaborating with influencers and bloggers in order to get more exposure for your store.
In addition, create a comprehensive marketing plan that includes strategies for search engine optimization (SEO), content creation, social media campaigns, advertising, etc., to ensure your store is visible to potential customers. 
6. Seek Feedback:
Make sure that you solicit customer feedback regularly so that you can improve the products or services offered by your online shoe store and address any issues or queries quickly and efficiently.
7. Track and Analyze Data:
Once you start selling shoes online, it's important to track and analyze data in order to better understand your customers. Use analytics tools such as Google Analytics to monitor website activity, find out which products are most popular, and identify areas where you can improve. This will help you fine-tune your marketing efforts and make sure that you are targeting the right audience with the right message.
8. Provide Exceptional Customer Service:
Your customers should be your top priority, so make sure you provide them with the best possible customer service. Respond to inquiries quickly and politely; keep up-to-date on new products and promotions; and always strive to exceed their expectations. Great customer service will go a long way in retaining customers and building loyalty for your store.
9. Stay Up to Date:
In order to stay competitive in the online retail industry, it is important to stay up-to-date with new trends and technologies. Research what other successful shoe stores are doing and implement changes where necessary; read industry blogs for ideas; and always keep an eye on your competitors.
10. Build a Community:
Create an online community where customers can interact and discuss their experiences with your products. This will help to build loyalty and encourage word-of-mouth marketing for your store.
Finally,
By following these tips, you can easily set up an online shoe store that's successful and profitable. With the right strategy, determination, and hard work, you can create a thriving business that will bring you joy as well as financial rewards!