Category: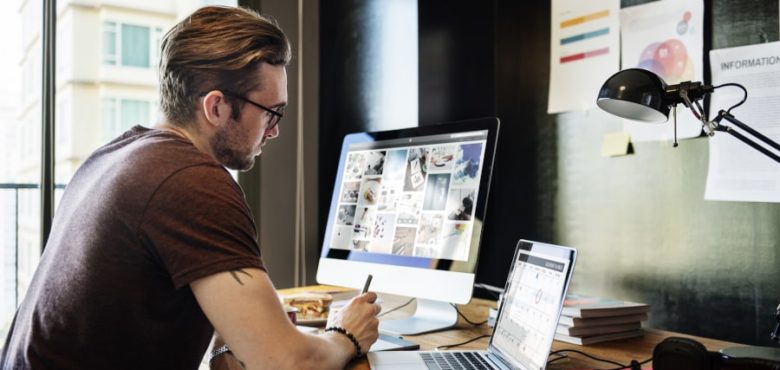 Moving From Office-Based SME to Running Home Business
Home businesses have been a popular choice for several years. However, the old protocol was that you'd start out as a home-based firm before relocating to a commercial space once the home office had been outgrown. Thanks to the pandemic, though, the inverse strategy has become increasingly commonplace.
After all, remote working has opened the door to manage a huge team without the need for face-to-face interactions. If you do plan to take this route, however, it's an assignment that must be handled in style. Otherwise, your entire business could be at risk. The following tips should keep you on the path to success.
#1: Build the Perfect Home Environment
If you plan to work from home on a permanent basis, you'll need a property that allows you to stay productive. This change of work-life structure is the perfect time to celebrate your success by building the home of your dreams. Choosing modern house plans that incorporate designated home office spaces is ideal. they should also offer a great quality of life. If you're a young go-getter who is now ready to settle, this idea is perfect.
While the process of building your dream home may take some months to complete, you'll have to work from your current property. But the knowledge that you are moving to a more suitable location in the near future will provide solace. In turn, you should be capable of remaining productive in the immediate and long-term future.
#2: Invest in Communication
Managing a team of remote employees is a daunting prospect. With the right tools, however, it is actually possible to increase time-efficiency. Cloud computing allows for collaborative efforts while project management tools deliver increased clarity. Likewise, team messaging apps and direct messaging allow you to keep individuals and teams on task. Without the need for lengthy team meetings. This, combined with flexible work schedules, will aid the cause.
It's not only the employer-employee relationships that need consideration. Consumer experiences are now considered more influential than ever before, with many people ready to pay more for it. This is the perfect opportunity to revamp your customer care game. It'll improve the business and save you from personally fielding calls.
#3: Analyze Your Business Partnerships
As the owner of an SME, you are familiar with using outsourced companies to complete various activities. This can range from IT management and data security to packaging and couriering. Some of those companies may no longer be the best solution. Either due to compatibility with home-based firms or because other companies have overtaken them. An analysis of all partnerships will allow you to identify the best options for your bottom line.
In fact, some services may be lost entirely. For example, you won't need to recruit security teams to check your property, especially if stock is held at warehouses and storage places. Conversely, though, you may find that it's worth partnering with companies in areas that were once handled in-house. Marketing and website management are good examples.
#4: Manage Your Expenses
Your decision to manage the business from home isn't solely influenced by social distancing regulations. If it were, you'd only do it as a short-term measure. In reality, the pandemic's negative impacts on the pandemic have played an equally important role. As a young, ambitious, and intelligent business owner, you accept the need to adapt. If revenue has taken a hit, reducing the company's overheads is the only way to stay afloat.
Removing the need for a commercial workspace is a great starting point, even if you need to find storage and warehouses to support the home office. Crucially, you should want to hire an accountant that specializes in this type of business model. The money that they can save your business through tax deductions and advice will outweigh their fee.
#5: Make Appearances Count
Whether you've been forced to take the business back to the home or done it through choice doesn't matter. You know that working from home doesn't stop you from providing a quality service and equally amazing products. Sadly, that won't prevent some clients from taking a negative view. First impressions count for a lot in business, and you mustn't forget it.
Renting a virtual office address can be an ideal way to overcome many of the problems. After all, a lot of customers and B2B firms will see a residential address and think the worst. The chances of needing to meet clients in the near future are slim. If it does happen, though, your problem-solving skills will find a solution. Taking them for a meal is a good example.
#6: Revisit Your Business Plan
The blueprint for success is already in place in the form of your initial business plan. Times have changed, and your situation is about to too. Therefore, it may be necessary to tweak the business model by introducing new revenue streams. Content creation is a particularly good way to create passive income sources like advert placements. Depending on the nature of the business, you offer additional earning potential. This can compensate for sales declines.
It's also quite likely that you will need to open up the venture to new audiences. Market research will allow you to spot new opportunities, which can be capitalized on through new branding. This is also a chance to build excitement amongst your existing client base. Through successful remarketing, you can secure the loyalty needed to gain big CLVs.
#7: Implement the Right Lifestyle
It's one thing to put the right facilities in place, but it counts for very little if you do not perform. The fact is that your personal output will set the tone that filters down throughout the entire company. As well as building a great home environment, you must be sure to stay hydrated during shifts. Moreover, you must eat well and sleep well on a daily basis. Otherwise, your productivity levels will inevitably start to slide within weeks.
Working from home removes the need to commute, which could effectively shorten your day if you maintain the right levels of workflow. However, the home will be bursting with potential distractions. So, building a routine that leaves time for eating, exercise, and family time without compromising your work. Get it right, and the company will look better than ever.