Category: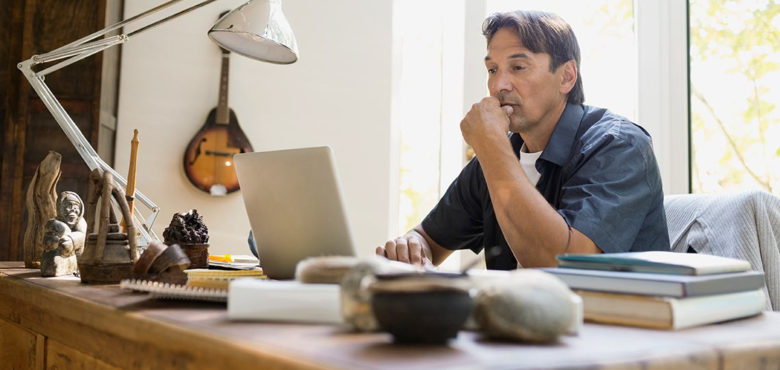 The Infrastructure and Services You Need to Work From Home
So the new thing is, everyone has to work from home. The current situation demands that we all continue working from home, if at all possible. We can't go into our offices, we can't use the services we enjoy in high-rise commercial buildings and we have to stand up on our own two feet.
Whether we like it or not, we are now appreciating the things we take for granted in our daily working lives. A nice spacious desk, a great phone system, a nice office that has room, natural light and lots of storage capacity, etc. But running a small business from home is far from impossible. Many people choose to do it this way anyway, regardless of the circumstances the pandemic has foisted us in or not. However, if this is your first time working or running your business from home, here are a few things you need to make it feasible.
A Desk, Chair and Drawer
It's time to set up your home office. The first things you need are a desk and chair. You could use any old desk really, it doesn't matter as long as you have enough space to type and write. However, if you intend to make this a more semi-permanent or permanent thing, you will need to choose a proper office desk.
An ergonomic desk: Often called the angled desk, you have a desk with a right-angle design. This allows you to have a decent amount of space to your side so you can write things down, store your files and folders and still have enough space for a computer, keyboard, and mouse in front of you.
A glass sheet desk: This type of executive desk is for the minimalist and someone who wants to incorporate modern style. The tempered glass, single sheet desk, will make the room seem a little larger as the natural light will bounce off the surface. Even though it's quite strong, it can look messy really quickly. So just a mouse, keyboard, and screen are what you want on this desk. Maybe a pen holder or a small plant is good.
The traditional desk: A great desk for those who love classic style. This type of desk is quite heavy and provides plenty of stow-away storage. With drawers either side, you have a larger flat surface with plenty of room for pretty much anything you'd want.
Lighting and Equipment
Who knows how long you're going to be at home, working to keep things ticking over. You need a lighting arrangement that will allow you to work late into the night. A classic task light lamp style is very chic and minimalist. Modern variants use anti-dazzle LED lights which spread the lumens more evenly and won't hurt your eyes when you're up at 3 am trying to get some of the last bits of paperwork done. You can also have a side table lamp, something which is more portable and can be moved around the desk at will. It's not as heavy and isn't as bright.
Some lightweight plastic folders and storage boxes would be a nice addition to your desk or drawers. Although most of our files and documents are indeed stored online, using the cloud, sometimes a hard copy of an agreement or notes, are worth storing in the real-world. This is why it's better to have a plastic product because you won't be using it much anyway, so no use having it weigh more than it needs to in your already crowded office.
SEO Is Serious Business
Marketing was already a big priority for businesses but since the lockdown, it seems to be the only priority. Any projects that were for making a new or improving a product or service, have been put on hold. The only thing on a business owner's mind is staying alive. You don't want consumers to forget you and you want your brand to flourish online. The thing to comprehend is, people may be stuck indoors, but some delivery services are still operating and people are still buying online. In fact, online purchasing has risen by almost 50% and collections from in-store have risen by around 200% during the lockdown.
What Kind of SEO Should You Focus On?
Near me: It's fascinating how much local SEO has been relied on during the pandemic. Some not all, delivery services are still operating. So by the grace of great Google Business Listings and using location-based social media posts and content, local consumers are currently your main source of the purchaser.
About us: You need to start taking your business profile on your website, more seriously. People truly want to know more about your values as a business. Brands simply cannot afford to have an ethical scandal of some kind during this lockdown. You would be writing your own death warrant if this occurred. Write about your ethical practices such as, only sourcing from approved suppliers who treat their workers right, not using animal products from abusive sources, using profits to fund eco-friendly projects, etc.
Blogging is power!: Every company under the sun has a blog, but only a portion write regular posts. It's these businesses that will do better now because consumers want to read before they buy more than ever. Write credible articles and use off-site links to back up your claims. You should also write posts with trending keywords and keyphrases. Remember to incorporate videos as Google ranks you higher automatically if you do this. Write some exclusive things, such as hints or details at a new product, improvements you're making, or any important questions you're going to be answering. This way you stand to receive more inbound links from news sources.
Technical Support
An at-home office isn't complete without good technical support. The first and most important thing is, having a good stable internet connection. Commercial office buildings have a personal technician team that can fix just about any issue that arises. You're on your own now so this isn't available. Or are you? You should use this online WiFi support service if you ever run into problems. Virtually connecting with HelloTech, you will be speaking with your own technician via video chat. Just use your phone's camera and your technician will be able to see what's going on with your route and cables. They have a step-by-step process that you will be walked through to troubleshoot the problems with your modem, network, router, or computer software.
This type of service is invaluable as if your internet isn't working properly, it renders you rudderless. Speaking of which, you need to have a Wi-Fi hotspot at home as well. Just in case you cannot solve the issue because it's a hardware problem, you still have access to the internet; albeit of lesser quality.
Conference Calling
Being able to chat with your clients, employees, customers, and suppliers really is a necessity. You cannot simply rely on phone talks because it's just not the same as looking at someone who has been able to use visuals to help make your point. Conference call software like Zoom and Skype have made leaps and bounds in their software since the lockdown. Both platforms allow you to share documents, videos, audio files, and an array of things such as photographs, images, graphs, slideshows, etc.
However, Google has just released a brand new conference call software called Google Meet. It's different from Hangouts as it's designed with professionals in mind only. Hangouts are good for casual conversations but there's a limited number of participants and the features aren't that great for businesses. Meet on the other hand has the ability to host up to 100 participants, with all the features needed to share vital information. With Meet, you also get added security, with a less likely chance of being hacked or recorded. Meet was previously named Google Hangouts Meet and was behind a paywall. Now, it's totally free to use.
A Routine
Even though you're working from home, when the clock strikes 9 am, you're not technically 'home'. You're at the office, your new office. Having a good routine to go to work on time is a service you need to provide for yourself. It will help you stay focussed, motivated and you'll be better placed to use your time wisely. It's hard enough as it is to find the determination to carry on through this tough time rather than adding to your problems by oversleeping or falling to the temptation to watch TV while working.
Take it seriously. Have breakfast on time. Remind yourself that only hard work will get you out of this mess. Focus a lot of your time on creating effective marketing campaigns and remember, to the only clock off work at 5 pm. Don't take any shortcuts.
Working from home is the only option many business owners have at the moment. The lockdown is persisting. The absolute top priority for you is, to maintain a good online presence through marketing. SEO is the end all and be all right now.