Category: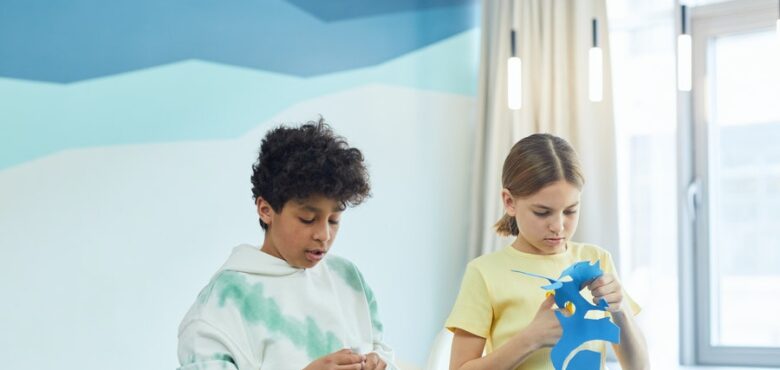 How to Entertain Your Kids During the Summer on a Budget
When school lets out for the summer, parents everywhere are looking for ways to keep their kids entertained without breaking the bank. There are plenty of fun and affordable activities that can be enjoyed during the summer months, and this blog post will share some of our favorites with you! So keep reading to learn more about how to entertain your kids during the summer on a budget.
#1: Get Outside and Explore!
One of the best things about summer is that the weather is perfect for spending time outdoors. Take your kids to the park, go on a nature hike, or even just let them run around in the backyard with some playground equipment from https://www.generalrecreationinc.com/delaware-playground-equipment/. There are so many fun and free ways to enjoy the great outdoors with your kids.
If you live near a beach or lake, take advantage of it! Go swimming, build sandcastles, or just relax in the sun. There are also usually plenty of free events and activities going on at local parks during the summer months, so be sure to check your community calendar for things like concerts and movie nights.
#2: Have a Picnic
Picnics are a great way to enjoy a summer meal without having to heat up your kitchen. Instead, pack up some sandwiches, fruit, and drinks and head to your local park for a relaxing lunch in the sun. If you want something a little more special, you could even pack a picnic dinner and enjoy a romantic date night under the stars!
How to pack a picnic
Packing a picnic is easy if you keep a few things in mind. First, choose foods that won't spoil in the heat or need to be kept cold. Sandwiches, fruit, and hard-boiled eggs are all great options. You'll also want to make sure you have enough water for everyone to stay hydrated, especially if it's going to be a hot day.
If you're planning on spending time at the park or beach, you'll also want to pack sunscreen, hats, insect repellents, and anything else you might need to enjoy your time outdoors. And don't forget the blanket! Picnics are best enjoyed when you can relax and take in the scenery.
#3: Get Creative with Arts and Crafts
There's no need to spend a lot of money on art supplies – there are plenty of ways to get creative with things you have around the house. Paper towel rolls, egg cartons, and even toilet paper rolls can be turned into works of art with a little imagination. Pinterest is an excellent resource for finding easy and affordable crafts for kids of all ages.
If you're not sure where to start, sit down with your kids and brainstorm a list of ideas. Once you have a few ideas, gather the supplies you need and let them loose! It's also a good idea to have some sort of plan in mind before you start crafting. That way, if things get too chaotic, you can always fall back on your original idea.
There are so many great arts and crafts ideas for kids, but some of the all-time favorites include painting with nature, making homemade Instruments, and creating your own sculptures out of recycled materials.
#4: Have a Movie Marathon
Summer is the perfect time to catch up on all those movies you've been meaning to watch. So make some popcorn, snuggle up on the couch, and enjoy a family movie night. You could even make it into a themed event by choosing movies that all have a common element, like animals, cars, or princesses.
If you want to take things up a notch, invite some friends over and have a picnic in your living room! Spread out a blanket and enjoy your feast while you watch your favorite films. Just be sure to clean up before the credits start rolling!
There are a few things you can do to make movie nights even more fun for everyone involved. First, let everyone choose their favorite film ahead of time so that you can make sure there's something for everyone. You could also set up a concession stand with popcorn, candy, and soda to make it feel like you're at the theater.
Finally, if you really want to go all out, you could turn your living room into a makeshift theater by hanging sheets from the ceiling and setting up a projector. This is sure to be a hit with kids of all ages!
In conclusion, there are plenty of ways to entertain your kids during the summer without breaking the bank. So get creative and have fun!