Category: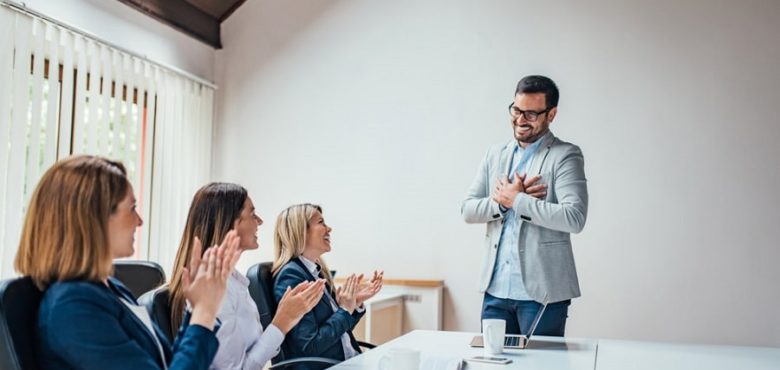 Seven Ways to Show Your Employees You Care
Part of running a successful business is to employ a team of great people who love what they are doing. An element of this involves you looking after them and letting them know that your business is a great place to work. By looking after your team they will not only feel more motivated to work for you, but also be more productive and less likely to leave, reducing your staff turnover.
If you are particularly good at looking after your employees, you could enter some awards to represent that you value your staff and are a great place to work.
To help give you some ideas of how to look after your team, below we have come up with seven-way to show your employees you care.
Give Them a Bonus
Some employees thrive on monetary values, and it motivates them to perform better. If one of your staff members have been performing well and hitting their targets, why not show them you care by giving them a bonus? The bonus doesn't have to be a fortune, just enough that it shows them you value them and that you think they have been doing a good job. You could opt to do this quarterly or yearly.
Add an Employee Benefits Scheme
Why not look into a company like Cjfig.com who specializes in employee benefit schemes? An employee benefits scheme is a way to show your appreciation. By showing them you care, they will hopefully feel more motivated and less likely to leave as they will enjoy working for you more. Not only that but when employing, potential staff members will be more attracted to working with you, knowing that you offer a benefits scheme.
Offer Them a Promotion
If an employee is doing well, a promotion is a great way to show you appreciate the work they have done and that you care. When offering a promotion, it will help with your employee's career growth and motivate them to continue to work hard. Other staff members will also see the promotion and work harder to try and achieve one themselves. As a company, it is always useful to have a career progression ladder so that employees know what to strive for when aiming for one themselves. You could implement small stepping stones that employees could aim for which gives them a small number of extra responsibilities and a small pay rise instead of one big jump from one role to the other.
Extra Time Off
Money isn't always the way to show your staff you care. Instead of offering a bonus, why not reward your team with an extra day off, or allow them to come into work later / finish early. As a family member, they may appreciate being able to get home earlier to see their children. Extra time off will also cost your company less money as you won't have to pay them as big a bonus if you don't want to. That said, it's always worth combining benefits to show variety. You could always run a competition with your team with the winner benefiting from an extra day off. Alternatively, you could just add one day onto their annual leave.
Team Activities
Taking your team outside the office to have fun and let go can really bring the team together. Why not look into taking your staff to an escape room or to a sporting event. Activities can also bring out certain sides to people, showing leadership skills. Also, it can help with productivity, morale, and be good to just have a laugh with your team and get to know them better. If you want to, you can always invite their partners along so you can introduce yourself to them. You don't have to spend a lot on an activity, just getting people out of the office to the park for a sports day would be great fun.
Provide Training Opportunities
Career growth is important to many people, which is why supporting this can show you care. Why not offer to pay for a professional training session or enroll them in an online course. Some courses don't have to cost much, but if they do, you can always get them to sign a contract just in case they leave. Why not send an email around asking what courses people are interested in? Then when targets are hit, you can surprise them by singing them up. If the course is relevant to the job, you may find that productivity is increased as they will be developing their knowledge coming up with new ideas to help the business.
Tell Them
It sounds silly, but simply telling your employees they are doing a great job can make them feel so much better. Don't overdo it, but every now and then, call a member of staff into your office and congratulate them on a job well done. You may find you don't do this enough, but it can mean a lot. Especially to new staff as they will be eager to impress and will feel a sense of accomplishment if their boss comes out, especially to say well done.
Helping staff feel good and looked after is a key job for any manager or owner. The happier your employees are, the lower your staff turnover will be, and the more likely your team is to recommend people they know to work for you.
Fortunately, there are many ways you can make your team feel valued, and sometimes it's as simple as telling them they are doing a good job or by allowing them to finish the day early. Just remember it is important you do this regularly as you want staff members to feel good about the job while they work for you, not just on an odd day.
What have you done to show your employee you care? Have we missed anything off our list? Let us know in the comment box below; we would love to hear from you.