Category: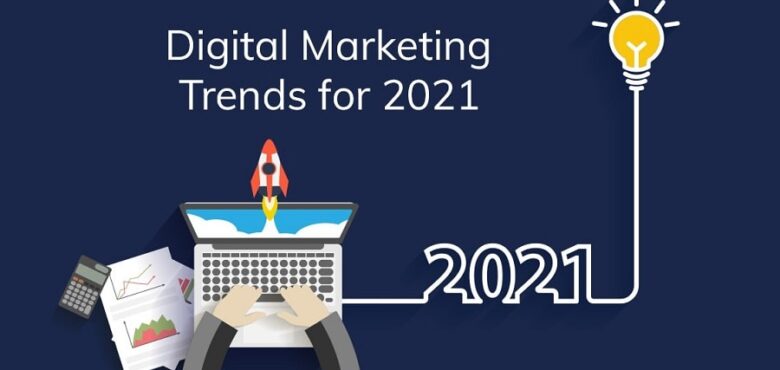 2021 Digital Marketing Trends You Shouldn't Ignore
Technological advancements have marked the advent of a new age in marketing. Digital marketing has revolutionized brand visibility and awareness. Organizations, especially commercial enterprises, are increasingly investing in new-age marketing ideas. Establishing a strong online presence and generating organic traffic are important success factors in today's corporate landscape. Disruptive marketing platforms, particularly social media, have radicalized all aspects of business operations and management.
However, the technology landscape continually shifts with new ideas emerging and technologies fast becoming obsolete. Marketing teams must continually keep tabs on emerging technologies and innovative ideas. Strategies for generating leads and creating brand awareness are ever-changing, with innovative ideas leaving the ideation pipeline every day. The following are digital marketing trends you shouldn't ignore in 2021.
Influencer Marketing
Influencer marketing has gained momentum over the past few years. Celebrities and popular figures are increasingly tapping into their large following and status to market brands. As opposed to traditional corporate marketing, influencer marketing generates leads by relying on the opinions of these influential individuals. The public trust invested in these public figures means that their opinions about products and services carry weight. The reviews influencers give on YouTube, Facebook, and social media platforms help in lead generation and marketing. Influencer marketing works like a traditional word-of-mouth brand awareness campaign. But it comes with a touch of powerful influence. However, you get a head start by working with an already established audience. And most importantly, the return on investment is good.
Chatbots
If you are worried about having a customer service desk operating 24/7, that chatbots will offer you the best solution in 2021. The artificial intelligence (AI) technology used in chatbots is programmable. You can include as many customer service functions in your chatbots without extra personnel. The AI-based platform will handle all your customer care functions in real-time.
From handling customer inquiries to marketing company products, chatbots are the technologies of the future. The key to effective marketing is cost-effectiveness and greater lead generation. Chatbots will offer these benefits and many more in 2021. The chat system can use the collected customer data to curate marketing messages. Your company stands to save on marketing expenditure while organically generating leads. With technological advancements, chatbots will continue to perform advanced functions beyond customer care.
SEO and Blog Marketing
Search engine optimization articles and blogging help in creating simple and interactive content that appeals to customers. Engaging customers through blogs and creative content is a trend that has gained momentum over the years. Many businesses are turning to SEO articles and blogs, including video blogs, to generate leads and traffic to their websites. Creating content that is verified by Google can help in reaching local and international audiences. Once you have determined how much to spend on SEO articles and blogs, proceed and source for service providers. In 2021, more companies will move towards establishing job portfolios for SEO writers and bloggers. Whether in-house or outsourced, SEO and blog marketing are highly effective and affordable.
Augmented Reality and Virtual Reality
Augmented reality or virtual reality marketing is one of the fastest-growing technological trends in the world today. Beyond gaming arcades, augmented, or virtual reality is an emerging marketing platform. Customers can try the products without physically visiting the stores. The 3D technology used in augmented reality marketing allows customers a real-life experience of using the products before purchasing them. Virtual reality allows for greater visualization, which is an important marketing factor in today's world. With the restrictions due to the global coronavirus pandemic, 2021 will require a safe marketing approach. Your customers can visualize their products from the comfort and safety of their homes.
Social Media Marketing
Social media is one of the most effective and popular marketing platforms in the world today. Companies are increasingly embracing social media platforms, such as Facebook, Twitter, Instagram, and YouTube. These platforms have billions of users, drawn from all over the world. The power of social media as a marketing tool is incomparable. Companies can post videos and write marketing messages that can appeal to specific demographics. Social media ads, video or written, are impactful and cheaper compared to traditional mass media marketing.
In 2021, consider posting shoppable posts on your Facebook page and save your customers the hassle of downloading your company app to shop for your products. Alternatively, increase your product visibility, brand awareness, and generate more leads by posting more social media stories on Facebook and Instagram. As a bonus, you get to include geofilters, links, trending hashtags, and your business location in your stories.
Video Marketing
The Internet and social media have heralded a new realm in marketing. These modern technologies take marketing to a new level. In 2021, customers will continue to rely on social media to keep track of their favorite brands, products, and companies. Visualization is an important part of marketing and the foundation of video marketing. Video marketing allows customers to connect with more than just the product. You can give customers an inside view of your company and various teams. You can advertise and market your brand and products from different angles using videos. Whether pre-recorded or live, videos will increase your lead generation and conversion by manifolds.
Voice-Bots Marketing
Alexa and Siri have been hailed as trendsetters in voice-bot services. Many customers and companies and moving beyond the fascination of conversing with robots. Voice-bots are important marketing tools that come with unmatched convenience and unbeatable experience. Voice-bots allow customers to voice search aggregated products and services from the comfort of their homes. Voice-activated searches serve as marketing tools by creating content with keywords for optimized searches. The primary objective is achieving greater brand visibility and generating leads.
Omni-Channel and Targeted Marketing
In 2021, embrace the growing trend of omni-channel marketing for greater customer retention and lead conversion. Using multiple marketing channels will help you in retaining the existing customers while pitching to the generated leads. And most importantly, omni-channel marketing will increase customer-brand interactions because you will be using several platforms, including traditional mass media, social media, physical stores, and influencers.
Marketing is an ever-changing undertaking, with new tools emerging every day. As a marketer, ignoring current and emerging trends in the field is one marketing mistake you don't want to make in 2021. Track technological shifts and settle on a strategy that suits your company and industry.